Python je programski jezik visokog nivoa opšte namene. Mogućnost hostovanja Python aplikacija na UNLIMITED hostingu je moguća već od OPTIMUM + paketa.
Kako biste kreirali Python aplikaciju koristeći grafički interfejs cPanela možete se poslužiti sledećom metodom:
Nakon što se ulogujete na Vaš cPanel pod menijem SOFTWARE videćete polje Setup Python App koje je potrebno da kliknete.


Nakon što uđete potrebno je napraviti aplikaciju klikom na dugme CREATE APPLICATION.
Otvoriće vam se forma kao na slici ispod.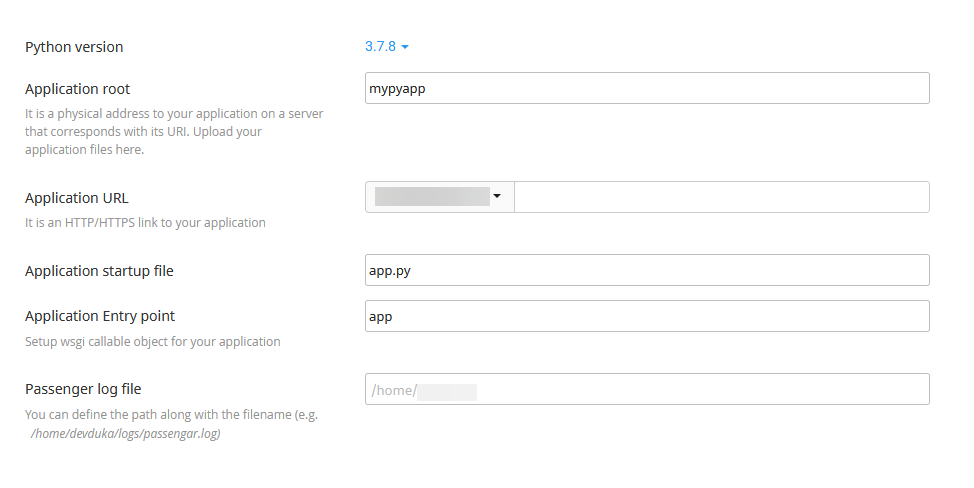 Python version - sa opadajućeg menija birate željenu verziju.
Application root – se odnosi na putanju u fajl sistemu Vašeg naloga.
Application URL – odavde birate domen za koji želite da napravite aplikaciju kao i URL putanju vaše aplikacije.
Application startup file – predstavlja fajl iz koga se pokreće Vaša aplikacija.
Application Entry point – opciono možete podesiti objekte koji se mogu pozvati za Vašu aplikaicju.
Passenger log file – možete definisati putanju i naziv Vašeg log fajla.
Environment variables – možete dodavati promenljive na + ADD VARIABLE.
Nakon što popunite formu kliknite na dugme CREATE kako biste kreirali aplikaciju.

Klikom na OPEN dobićete sledeći prikaz:

It works!
Python v3.7.8


Hello World flask primer
Zaustaviti aplikaciju klikom na STOP APP.
Zatim je potrebno otići na File Manager iz Vašeg cPanela.
Nakon čega će Vam se otvoriti fajl sistem u kome je potrebno da izaberete i uđete u folder koji ste naznačili u formi za kreiranje aplikacije.
Kada uđete u željeni folder potrebno je urediti fajl iz koga se pokreće Vaša aplikacija u našem primeru to je app.py. Desni klik pa izabrati opciju Edit nakon čega je potrebno ukloniti postojeći sadržaj i ubaciti novi kod koji je prikazan u nastavku:
from flask import Flask

app = Flask(__name__)

@app.route('/')
def hello_world():
return 'Hello World'

if __name__ == '__main__':
app.run()


Potrebno je sačuvati promene klikom na Save Changes, nakon čega se može zatvoriti fajl na Close.
Pošto ova aplikacija koristi flask biblioteku biće potrebno da je instalirate za Vašu python aplikaciju. Prvo ćemo kreirati fajl requirements.txt tako što ćemo kliknuti u levom gornjem uglu na  "+ File" nakon čega se otvara forma u kojoj treba da se unese ime novog fajla, odnosno "requirements.txt" i zatim se klikne dugme Create New File.
Zatim se može urediti sadržaj ovog fajla desnim klikom i opcijom Edit, uneti sledeći sadržaj:
flask

Potrebno je sačuvati promene klikom na Save Changes, nakon čega se može zatvoriti fajl na Close i ovim je proces kreiranja requirements.txt fajla završen.
Neophodno je modifikovati .htaccess u folderu od Vašeg Application URL, odnosno ukoliko je to npr. u public_html folderu public_html/.htaccess treba da se modifikuje. U našem primeru to izgleda ovako:
PassengerAppRoot "/home/username/mypyapp"
PassengerBaseURI "/"
PassengerPython "/home/username/virtualenv/mypyapp/3.7/bin/python3.7"
PassengerAppLogFile "/home/username/passenger.log"


Naravno umesto "username" kucate Vaš username, odnosno modifikujete putanje prilagođene Vašim potrebama.
Kada se ponovo vratite iz Vašeg cPanela na Setup Python App imaćete mogućnost da izvršite komande start; edit; delete odnosno da izvršite pokretanje; uređivanje; uklanjanje iz grafičkog interfejsa.
Kako biste instalirali pakete iz requirements.txt fajla kliknite na opciju edit.



Idite na sekciju Configuration files pod njom videćete opciju +Add u kojoj je potrebno da unesete requirements.txt i klknete na +Add. Zatim kliknete na dugme Run Pip Install i odaberete requirements.txt.



Sada možete pokrenuti Vašu aplikaciju klikom na dugme START APP.


Time je proces postavljanja Python aplikacije na cPanel završen.
Klikom na OPEN ili unosom URL vaše aplikacije ispisaće Vam se:


Hello World
Na kraju, pri vrhu videćete opcije:
DESTROY - ukoliko želite da uklonite aplikaciju.
SAVE - ukoliko želite da sačuvate promene.