Svim korisnicima UNLIMITED.RS Web hosting paketa dostupan je JetBackup paleta alata u okviru cPanel-a, uz pomoć koga možete vrlo jednostavno odraditi restore (vraćanje) fajla, foldera, baze,email naloga na neki od dostupnih datuma u proteklih 20 dana. Pitate se šta je "backup"? Backup ili sigurnosna kopija je proces čuvanja fajlova na lokalni ili udaljeni server.
Generisanje backup-a se dešava preko noći, vaši podaci se šalju na udaljene servere kako bi bili sigurni da ih nećete izgubiti.
Ovo je posebno bitno iz razloga što se dešava da napravite grešku na sajtu, da obrišete fajlove sajta. Uz ovu funkciju sami rešavate problem kroz par minuta vraćajući sajt na datum koji vama odgovara, i to samo ono što želite, ne morate ceo hosting nalog.
Pre svega, uđite u svoj cPanel - uputstvo kako da to uradite možete pročitati ovde.
Kliknite na odgovarajuću opciju u okviru sekcije JETBACKUP, u zavisnosti od toga da li želite restore fajlova/foldera (File Backups), baza (Database Backups), mejl naloga (Email Backups).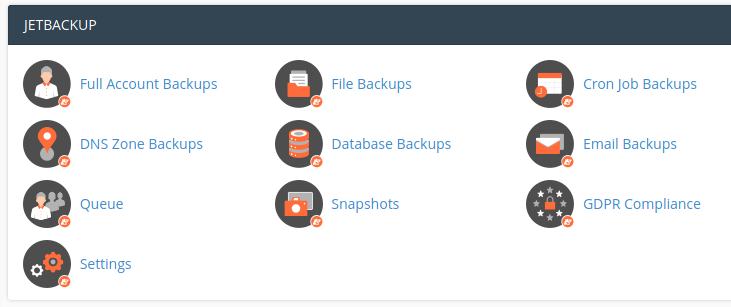 Odaberite File Backups, ukoliko želite restore fajlova/foldera: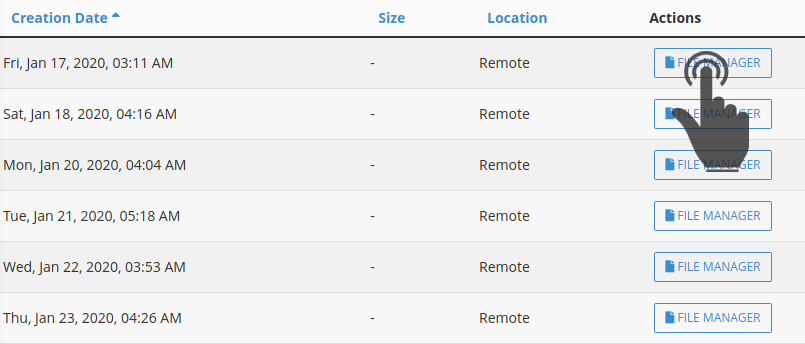 Kliknite na ikonicu File Manager, desno od datuma koji vam najviše odgovara.
U prozoru odaberite bilo individualne fajlove, bilo foldere (ako želite Restore određenog fajla u okviru npr public_html-a, prvo kliknite na public_html, da bi otvorili folder, pa zatim izaberite fajlove).
Nakon što izaberete fajlove, klikom na Restore Selected pokrećete proces.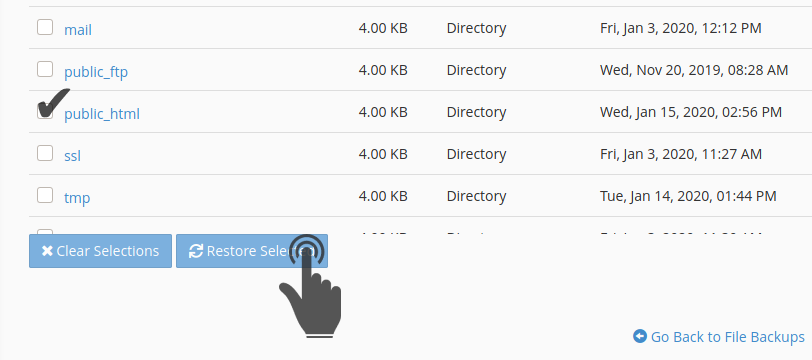 Tačnije potrebno je da potvrdite još jednom, klikom na: Add to Restore Queue dugme.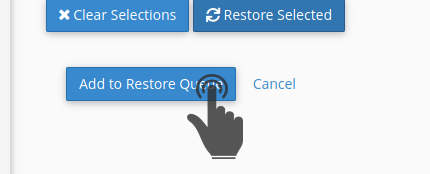 Nakon ovoga sačekajte da se proces završi, sa desne strane možete pratiti progres:

Dužina trajanja procesa najviše zavisi od veličine fajlova/direktorijuma, kao i broja istih, pa se naoružajte strpljenjem, ako je u pitanju veća količina podataka…

Proces je sličan i za baze, odaberete Database Backups: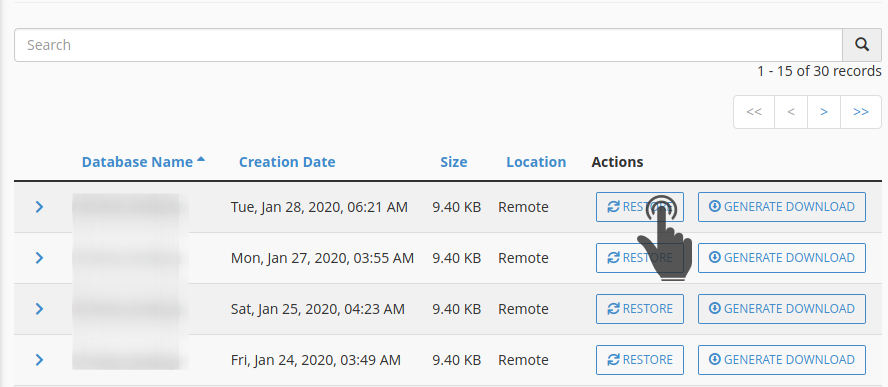 U polje Search možete uneti ime baze, ako ih imate više, pored odgovarajućeg datuma kliknite na RESTORE dugme.
I ponovo potvrdite klikom na: Add to Restore Queue

Proces može potrajati, ako je u pitanju veća baza.